The latest MLB The Show 19 Topps Now Moments have arrived! This
is just another feature that makes MLB The Show 19 one of the most realistic
video games on the market today. Now is the time for gamers to take advantage
of the situations that have recently occurred during the 2019 season and earn
vouchers towards a special pack to be released in early June in the Exchanges
area. Up first is Albert Pujols!
Albert Pujols Historic 2,000 RBI
Albert Pujols joined a rare club earlier this month in Detroit. Pujols entered the game vs the Tigers on May 9 with 1,999 career RBI – and No. 200 came in style! Pujols smashed a solo home run in the 3rd inning making him just the third player ever in MLB history with 2,000 career RBI. When you are locked as Pujols in a 9-inning game, you need to hit a home run to reach his epic milestone.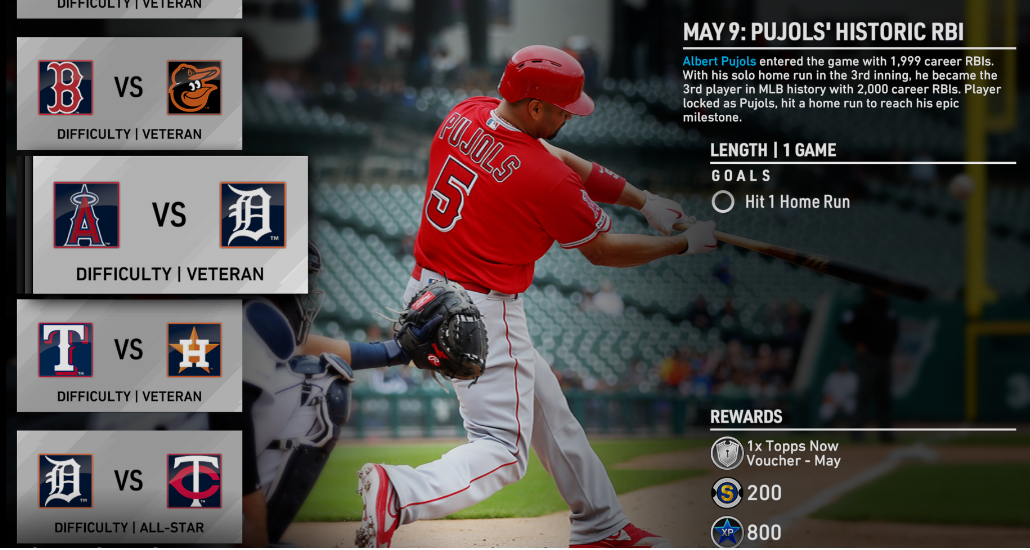 Bryce Harper's Grand Salami
May 7 was a great day for MLB The Show 19 cover athlete Bryce Harper. With the Phillies already up 2-0 in the top of the 2nd inning, Bryce Harper was about to blow the game open. With the bases loaded, Harper crushed a hanging slider into the right-field bullpen to break open the game. Now you can recreate the slam locked as Harper and collect the benefits.
George Springer
Mother's Day is all about mom, however, this year Houston's George Springer took center stage.
Springer went 5-for-5 with two home runs, four RBIs, and five runs scored on Mother's Day! To accomplish Springer's feat,  lock in as Springer in a 9-inning game, collect two extra-base hits including one home run and you are in!
Don't forget, these three and many others are available to play now, and they do not have an expiration date, so go get those rewards!
The post MLB The Show 19: Latest Topps Now Moments Include Albert Pujols, George Springer appeared first on VGR.